Work published online, from commissions to freelance to personal projects / from concert coverage to event photography to opinion pieces to videography work
LISTENSD EXCLUSIVE: INTERVIEW WITH OPHELIA BOOTH OF BLOXX
London indie rock superstars BLOXX are early in their trajectory as musicians, but they're already showing great promise and high aspirations while still maintaining an unpretentious outlook. We spoke to lead singer Ophelia Booth about touring stateside for the first time, their debut full-length, and learning from both the good and bad of the music industry.
FESTIVAL REPORT: THE 9TH ANNUAL GOVERNORS BALL
The start of summer is marked every year by Governors Ball, the annual three-day festival held on Randall's Island between the upper east side of Manhattan and Queens. This year's was epic and bombastic, from its musical acts to its abrupt end on Sunday thanks to mother nature.
Returning to old stomping grounds close to their hearts, Aussie punk trio Camp Cope played Warsaw in Greenpoint, Brooklyn, on a tour stint supporting recent release How to Socialize and Make Friends alongside Philly's Thin Lips.
Homeshake @ Brooklyn Steel
Following the release of Helium, the Montreal based solo project of Peter Sagar plus friends- HOMESHAKE played a packed show at Brooklyn Steel in Brooklyn.
Men I Trust @ Bowery Ballroom
A Decade Deeper: Mexican Summer's 10 Year Anniversary
Label Mexican Summer took over Red Hook's cultural center Pioneer Works for a tenth anniversary homegrown all-day festival.
Drugdealer @ Market Hotel
Drugdealer put on an over the top release show for Raw Honey, Michael Collins' latest psychedelic pop album.
Dilly Dally @ Music Hall of Williamsburg
Touring the world on an epic comeback with their new LP Heaven, DILLY DALLY pleased Brooklyn's Music Hall of Williamsburg with no holds barred.
Wild Nothing at Brooklyn Steel
On the tail-end of a monolithic North American tour, Wild Nothing took on a packed Brooklyn Steel with all the shimmering '80s pop influence of new album Indigo.
Her's at Baby's All Right NYC
Liverpool's Her's embark on their first ever US headline tour with a sold-out first date at Baby's All Right in Brooklyn.
RESIDENCY UNLIMITED HOLIDAY BENEFIT PARTY
Gabby's World Record Release Show at Elsewhere Zone One NYC
The long-awaited third album from Gabrielle Smith's project Gabby's World, Beast on Beast, sparked a warm and welcoming release show at Bushwick's Elsewhere Zone One.
HEKLER HOST / Francis Estrada & Ramyar Vala
Dream Wife at Knitting Factory Brooklyn
Closing out a whirlwind year in promotion of their bombshell debut album, Brightonian-Icelandic punk outfit Dream Wife are embarking on their first headline American tour, crisscrossing the country and celebrating the bad bitch within. Check out our images from the show below!
Halfway through the east coast leg of their behemoth of a North American fall tour, FIDLAR came to Terminal 5 in NYC to deliver their left coast fun to an eager, packed crowd.
Death Valley Girls at Mercury Lounge NYC
We caught Death Valley Girls, joined by Gymshorts and The Listeners, at Mercury Lounge in the heart of the Bowery for a crowded celebration of "Halloween 2!"
Sunflower Bean & Porches @ Summerstage NYC, 2018
After a weekend of thunderstorms – some of many that can be expected during a New York summertime – the rescheduled free show featuring Sunflower Bean and Porches (casualty Crumb, who were on the original bill) raged at the East River Park amphitheatre in the Lower East Side.
Vans Warped Tour 2018: Highlights from the Final Cross-Country Tour
Vans Warped Tour rolled through town for the final time as a travelling show. Check out the highlights below!
Jay Som at Brudenell Social Club
In the midst of their tour across Europe, Jay Som took a stop at the famous Brudenell Social Club in Leeds on their first date in a quick visit to the UK.
In Conversation with Canshaker Pi @ Great Escape 2018
Since releasing their sophomore album Naughty Naughty Violence, Dutch four-piece Canshaker Pi have been riding a wave of critical praise on a tour through the UK. At their very last date in the country, just before they head off to play in Europe, they sat down with us to talk about the collage that is their newest release.
In Conversation with Dama Scout @ Great Escape 2018
London-via-Glasgow three-piece Dama Scout might be one of the most exciting, eclectic bands one the rise today.
The twelfth instalment of The Great Escape blazed its way through Brighton, with the best new bands from around the world setting fires as hot as the sun beating down on the crowds.
In Conversation with Gender Roles @ Great Escape 2018
Brightonian locals Jordan Lilford (drums), Jared Tomkins (bass) and Tom Bennett (guitar) – aka the fuzzy indie-punk Gender Roles, playing a whopping five shows in their hometown festival The Great Escape – have just come back from a free-entry tour across the UK, their first headliner, in celebration of EP number two, Lazer Rush.
In Conversation with Hockey Dad @ Great Escape 2018
Hockey Dad, the duo Zack Stephenson (guitar) and Billy Fleming (drums), call Windang, Australia, home but have not been for a while now. After their sophomore album Blend Inn hit the airwaves, earning them a peak at #6 on the Australian charts (the first from their town to do so), they've been touring flat-out across Europe and now in the United States.
In Conversation with Peaness @ Great Escape 2018
Made up of bassist Jess Branney, guitarist Balla Balbenta, and drummer Rachel Williams, the three-piece sing about topics important to them in infectiously catchy 'pea-pop'. They're working on something to release sometime soon, and while they don't know what or when yet, sticking to their melodic equation are sure to please.
The Spook School at Belgrave Music Hall
The Spook School tore it down at Belgrave Music Hall in Leeds (sponsored by Linda McCartney vegetarian sausages, apparently).
ListenSD Exclusive: Interview with The Garden
Ahead of their show at Leeds' Headrow House, we sat down with The Garden to talk about their upcoming album, Mirror Might Steal Your Charm.
VLMV @ Fox & Newt, 23/3/18
Upstairs at the Fox & Newt pub, tucked away in a hidden stage, there brewed dreamy songs from a trio of acts, headlined by the duo VLMV (Uhl-muh) celebrating their newest album Stranded, Not Lost.
In conversation with Thomas Truax
Thomas Truax, a powerhouse of the anti-folk movement that grew out of New York in the 1990s, chatted to us about his innovative homemade instruments and working independently as a DIY musician, before singing to us at the Brudenell Social Club about a full moon over Wowtown and a grandmother's unwavering advice.
Girl Gang Leeds' First Birthday @ Chunk, 17/2/18
In this fucked-up world of ours, with 'downtrodden' and 'discriminated' being apt words of description for so many of those holding minority identities, Girl Gang is a light that shines for positivity, inclusivity, support and real fun. Created in celebration and encouragement of women and non-binary people to pursue their best lives by establishing a collaborative community of like-minded people, they hold every kind of event imaginable.
Leeds Lit Buildings: Making LGBT History Month Visible
On Thursday 1st February, buildings all around Leeds were lit up in rainbow colours to mark the start of LGBT History Month. This not only made for some pretty Instagram photos, but really put into practise the promise of visibility and support that this history month is all about.
Cherry Glazerr at Observatory North Park
The best thing about this group is their joyful exuberance; perhaps it's their youth, but their excitement is palpable. The show made us all thrash together and left the audience with smiles, but it might have had something to do with a full moon directly on the center stage!
(Text by Ty Velasquez)
PINS, Cowtown at Belgrave Music Hall & Canteen
PINS showcased exactly what they're made of at Belgrave Music Hall & Canteen.
Sløtface @ Brudenell, 30/9/17
Fresh off their newest release, Norwegian band Sløtface visited Brudenell Social Club's Community Room for a party and a half on their tour of the UK.
Pitchfork Music Festival Paris 2017: Day 3
The third and final day of Pitchfork Music Festival Paris was rife with talented acts and an enthusiastic audience looking to make the most of their very last day in the Grande Halle.
Pitchfork Music Festival Paris 2017: Day 2
(SANDY) Alex G and Ó at Brudenell Community Room
INHEAVEN at Brudenell Social Club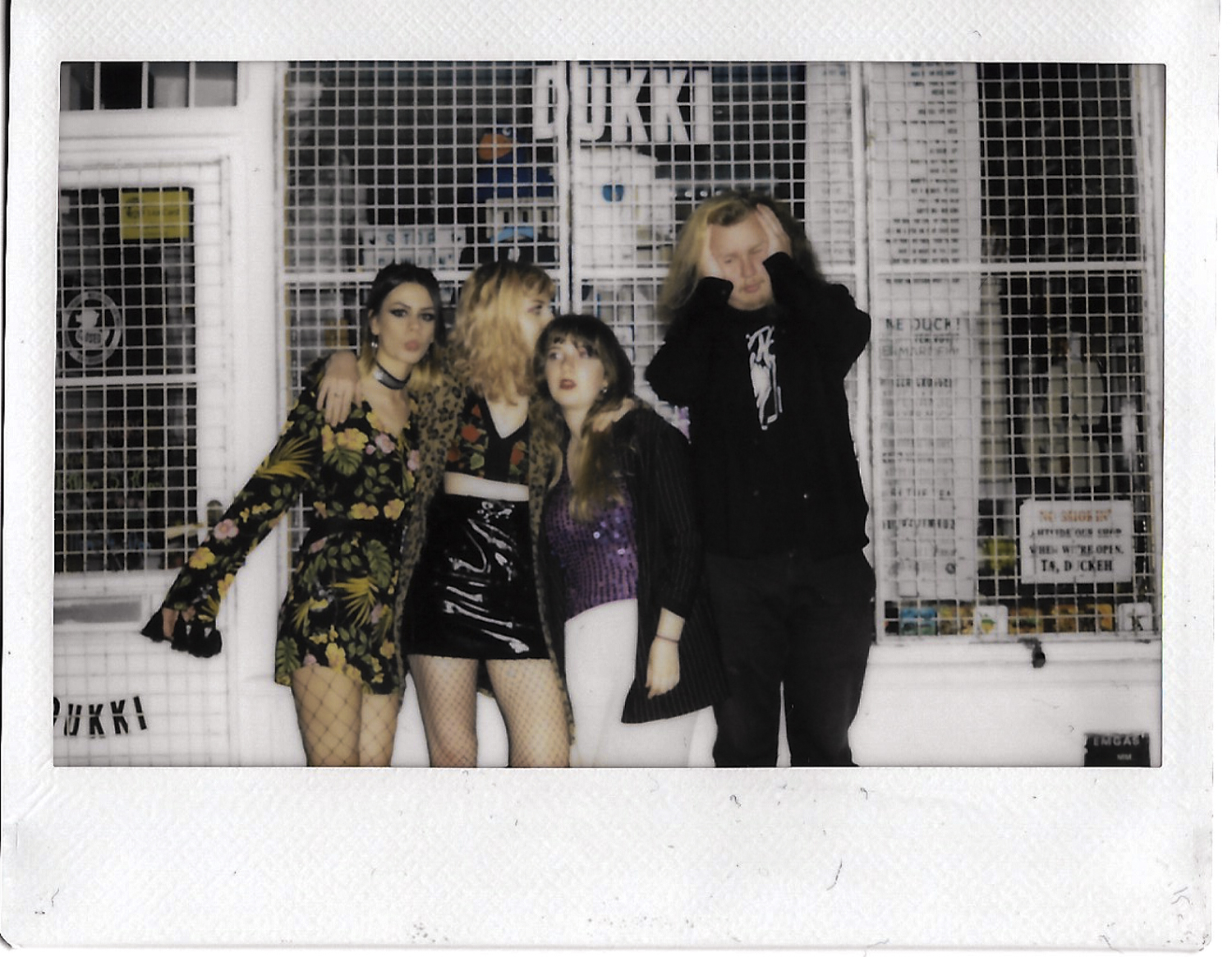 ListenSD Exclusive: Interview with BABE PUNCH
With spirit and spunk as loud and punchy as their name, Babe Punch want to take the world by storm, and they surely know how to go about it.
Liverpool International Festival of Psychedelia 2017: Day 1
Long-named "The Great Psychedelic Capital of Europe," Liverpool has appropriately been home to the Liverpool Psychfest for six years running. We caught both days this year, and here is a recap of the first.
Chastity Belt at Brudenell Social Club
ListenSD Exclusive: Interview with Buddha Trixie
Buddha Trixie, a staple of the San Diego local music scene, released their debut album, Stop the Space Age, late last month. Influenced by psychedelic rock, the album goes above and beyond what's expected of a debut. Buddha Trixie spoke to ListenSD about Stop the Space Age as well as their inspiration and aspirations.
Sunflower Bean at the Che Cafe
Sunflower Bean took the stage at UCSD's Che Café Collective on March 25 to celebrate their newly-released album, Human Ceremony, as part of their world tour stretching into September.
The Frights' You Are Going To Hate This Fest at SOMA
Celebrating the release of their sophomore album, San Diego local band The Frights put on the You Are Going to Hate This Fest, named after said album. Featuring a slew of bands, both from in town and out, the fest attracted both new and old fans with the genre of music not deviating far from the classic surf punk one would expect of the town favorites.
Holychild and Nothing Special at The Loft @ UCSD
AWOLNATION at House of Blues
Whether you were an out-of-place parental chaperone, confused and angsty teenager stuck with one, or just out to listen to some good tunes, Wednesday was an evening day get boogie with it at the House of Blues.
(Text by Tyler McQuillan)
Buddha Trixie in a Garage
The show was comprised of all San Diego native surf punk bands Beach Goons, Sandy Cheeks, Buddha Trixie, Groms, and Shady Francos, then finished up with the Los Angeles native band Death Lens.
Lavender House Records Present: L.A. Witch, Death Valley Girls and Burning Palms
For those of you in North County needing a new venue to go to or a San Diegans willing to make the trip, Lavender House Records is perfect for watching up and coming artists in a house party environment. Keep checking their website for upcoming shows.
(Text by Lara McCaffrey)